Adiantum pedatum (Maidenhair Fern)
Bright green fronds with curved stalks on thin, wiry black stems. Pink or burgundy red coiled young fiddleheads appear in early spring. Moderate growth rate
1-2 ft tall x 2 ft wide
Groundcover
| | |
| --- | --- |
| Zone | Zone 3 |
| Exposure | Partial to Full Shade |
| Moisture | Moderate to Full Moisture |
| Native to | Native |
Insignificant cup-shaped purple-brown flowers appear on small ground-level stems along with heart shaped dark green leaves.
Blooms mid to late spring
0.5-1 ft tall x 1-1.5 ft wide
Deer and rabbit resistant
Attracts butterflies and pollinators
Tolerant to juglone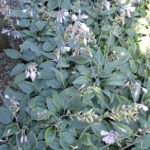 Blue green, glaucous ovate wavy leaves with nearly flat margin, moderate growth rate, light lavender bell blooms, blooms mid to late summer, partial to full shade. Medium (26-45 cm)
Cream white, dark green foliage, smaller finely-toothed leaves, blooms early summer, 0.5-1 ft tall x 2 ft wide, partial to full shade.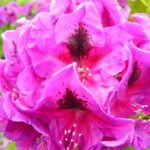 Blooms have wavy edges, vivid purple at margins; shades of reddish-purple to bright reddish-purple in centre; dark purple flare and blotch. Blooms late spring. Compact habit. 3′ tall x 3′ spread. Part Shade. HARDY to -20F (-32C)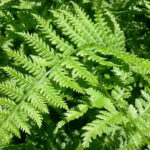 Light green lacy fronds grow , moderate growth rate,
Blooms mid spring to summer
2-3 ft tall x 1-2 ft wide
Attracts butterflies
Deer and rabbit resistant
Groundcover