Nothing could be easier than growing small fruits and edibles in your garden. AND nothing could be better than fresh fruit from your garden to your table. Explore the many types of common berries that are available such as blueberries (Vaccinium), strawberries (Fragaria), raspberries (Rubus), and take the challenge to try some of the less common berries such as Haskaps (Lonicera), gooseberries (Ribes) and Lingonberries (Vaccinium vitis-idaea).
A
(VINE) Grape-sized fruit hangs in bunches on this vigorous vine and can be harvested in the fall. Makes a good beginner's kiwi, as it's easy to get growing. MALE NEEDED FOR POLLINATION.
Blooms in spring
Drought tolerant
30′ tall x wide
F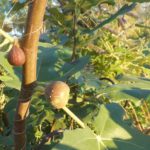 Purple brown fruit, bright green leaves, good taste, fruit ripens early summer on old wood and late summer on new wood, 8-10 ft tall, full sun to partial shade.
G
White urn shaped flowers followed by blue berries in summer, semi-evergreen glossy green foliage turning red in winter, spreading habit, 0.5 ft tall, part shade to full sun.
H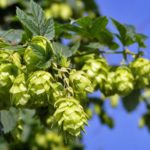 Medium sized light green cone that when used in brewing, produces a mildly bitter taste and sweet aroma, hop flowers ripen late summer to early fall, vigorous growth rate, 10-20 ft tall, full sun
Small to medium sized cone, produces mild fruity aroma, with hints of spice and earthy woods, English Fuggle type, hop flowers ripen late summer to early fall, fast growth rate, 20-25 ft tall, full sun
L
NEW
Elongated, deep blue berry's flavour is similar to wild blueberries. One of the first berries to ripen in the spring. They don't hold up in room temperature but freeze well. Upright habit. 4-8′ tall x 4-5′ spread. Full Sun Part Shade.
M
Slender white or pink flower spikes, green foliage with variable pubescence, grown for culinary uses and fragrance, 1-3 ft tall x 1 – 3 ft wide, part shade
P
White blossoms followed by shiny deep red sweet tart cherries, glossy green foliage, blooms in spring, fruit ripens mid summer, 6 ft tall x 6 ft wide, full sun
R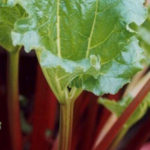 Red green stalks, tart flavour, moderate growth rate, leaves not edible, blooms mid spring to early summer, 2-3 ft tall x 3 ft wide, full sun.
V
Blue black, white blooms, red bronze fall foliage, moderate growth rate, blooms late spring, fruit ripens mid to late summer, 1-2 ft tall x 2 ft wide, full sun to partial shade.