Included in this category are sub-tropical and tropical plants. Because of their foliage texture and colour, when incorporated into garden beds or containers they add an exotic look and make for an interesting conversation piece. These plants are not cold hardy and are usually treated as annuals, and most can be overwintered indoors.
A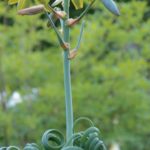 Yellow corkscrew shaped flowers, bright green foliage with strong curls at the end of each stalk, emits a light spicy scent, 10-20 blooms per spike, grows 0.5-1 ft tall, full sun
C
Black, corrugated leaves, deep blue veins, dark black stems, moderate growth rate, 3.5-4 ft tall x 3 ft wide, full sun to partial shade.
White, large blue green foliage, leaves can grow to be 5 ft long x 4 ft wide, rapid growth rate, 8-10 ft tall x 8-10 ft wide, full sun to partial shade.
D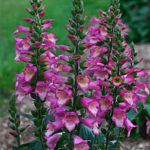 Hot pink, flowers form on tall spikes, deep green foliage, moderate growth rate, blooms late spring through mid-fall, 2 ft tall x 1.5-2 ft wide, full sun to partial shade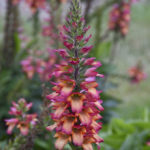 Pink flowers, bright orange throats, glossy dark green foliage, blooms late spring to early fall, fast growth rate 3 ft tall x 1.5-2 ft wide, full sun to part shade
Raspberry-pink floral spikes, salmon pink speckles, glossy dark green foliage, blooms late spring to early fall, fast growth rate, 3 ft tall x 1.5-2 ft wide,full sun to partial shade
E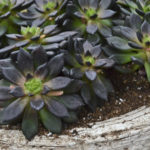 Red flowers, rigid dark purple almost black foliage, blooms late summer to early fall, 0.5 ft tall x 1 ft wide, full sun to partial shade
M
Long wavy silvery blue-green succulent leaves with dark spotting on both sides of the leaf, edged with a fine white margin, 0.5 ft tall x 1.5 – 2 ft wide, full sun
P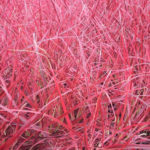 Green white and pink foliage, red purple bottlebrush blooms, moderate growth rate, blooms mid summer, 2-2.5 ft tall x 2 ft wide, full sun. ANNUAL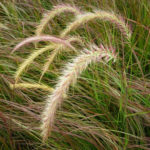 Burgundy purple, red to tan bottlebrush blooms, moderate growth rate, blooms late summer, 3-4 ft tall x 2-3 ft wide, full sun. ANNUAL