Echeveria shaviana 'Pink Frills' (Mexican Hen & Chicks)
Rosettes of mauve purple, silvery blue, and green foliage that start out spoon-shaped mature to show delicate pink ruffled edging, or "frills", as the name suggests. Orange-pink flower on tall narrow, arching wands in summer Moderate growth rate.
Blooms late spring to mid-summer
0.5-1 ft tall x 0.5-1 ft wide
HARDY to 25°F (-4 °C)
Attracts bees, butterflies, and hummingbirds
Deer and rabbit resistant
| | |
| --- | --- |
| Zone | Zone 9 |
| Exposure | Full Sun |
| Moisture | Low to Moderate Moisture |
Yellow-white ball-like blooms on silver lacy, scalloped leaves. Moderate growth rate..
Blooms early summer
1 ft tall x 2 ft wide
Deer and rabbit resistant
Fragrant
Drought tolerant
Attracts butterflies
Groundcover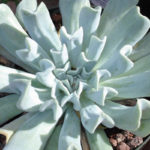 Rosettes of spoon-shaped, dusty, blue-gray leaves curve downwards along their length, while the tips curl up toward the centre of the plant. Later in the summer, star-shaped yellow and orange flowers spring up on arching stems. Moderate growth rate.
Blooms late spring to mid-summer
0.5-1 ft tall x 0.5-1 ft wide
HARDY to 25°F (-4 °C)
Attracts bees, butterflies, and hummingbirds
Deer and rabbit resistant
Long wavy silvery blue-green succulent leaves with dark spotting on both sides of the leaf, edged with a fine white margin, 0.5 ft tall x 1.5 – 2 ft wide, full sun