Colocasia gigantea 'Thailand Giant' (Elephant Ear)
White, large blue green foliage, leaves can grow to be 5 ft long x 4 ft wide, rapid growth rate, 8-10 ft tall x 8-10 ft wide, full sun to partial shade.
| | |
| --- | --- |
| Zone | Zone 8 |
| Exposure | Full Sun to Partial Shade |
| Moisture | Moderate to Full Moisture |
Pink mauve blooms, narrow lance shaped leaves, moderate growth rate, blooms mid-late summer, very attractive food source for butterflies, 4-5 ft tall x 2-3 ft wide, full sun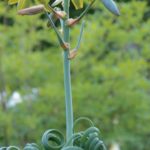 (ANNUAL) Green onion-like foliage; each plant is unique; some have tall, loose curled leaves, others have short tightly curled leaves. Spikes of orchid-like chartreuse-yellow flowers bloom in spring. Clumping habit. 6-10″ tall. Full Sun/Part Shade.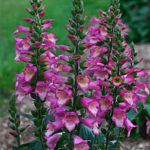 Hot pink, flowers form on tall spikes, deep green foliage, moderate growth rate, blooms late spring through mid-fall, 2 ft tall x 1.5-2 ft wide, full sun to partial shade