Colocasia gigantea 'Thailand Giant' (Elephant Ear)
Substantial, broad blue-green heart-shaped leaves can grow to be 5 feet long and 4 feet wide. Infrequently forms flowers that resemble calla lilies, though it is grown more for it's massive foliage. Rapid growth rate.
Blooms – null – grown for foliage
8-10 ft tall ex 8-10 ft wide
| | |
| --- | --- |
| Zone | Zone 8 |
| Exposure | Full Sun to Partial Shade |
| Moisture | Moderate to Full Moisture |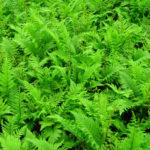 Bright green lacy fronds on red stems. Moderate growth rate.
2-3 ft tall x 1-2 ft wide
Groundcover
Attracts butterflies
Deer and rabbit resistant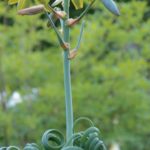 (ANNUAL) A small succulent plant with green onion-like foliage; each plant is unique – some have tall, loose curled leaves, others have short tightly curled leaves. Spikes of orchid-like chartreuse-yellow flowers bloom in spring. Clumping habit.
Grows in the winter
6-10″ tall – can grow 3 to 4 feet tall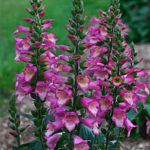 Hot pink cup-shaped flowers with burgundy mottled, buttery yellow throats form on tall spikes with deep green foliage. Rapid growth rate.
Blooms late spring through mid-fall
2 ft tall x 1.5-2 ft wide
Attracts bees, butterflies, and hummingbirds
Deer and rabbit resistant