Ajuga reptans 'Chocolate Chip' (Bugleweed)
(DWARF GROUNDCOVER) Bluish-purple flowers rise slightly above the foliage to 3″ tall. A foliage mat of tiny, shiny, oval leaves which are chocolate with burgundy highlights. Blooms from May to June. 3″ tall x 3-9″ spread. Full Sun/Part Shade.
| | |
| --- | --- |
| Zone | Zone 3 |
| Exposure | Full Sun to Partial Shade |
| Moisture | Moderate Moisture |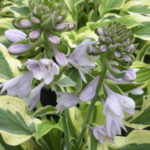 Blue green, cream yellow margin, shiny broadly ovate wavy corrugated leaves with irregular rippled margin, fast growth rate, lavender bell blooms, blooms mid to late summer, partial shade. Medium (26-45 cm)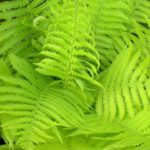 Green, produces edible fiddleheads, bronze fall foliage, moderate growth rate, 3-4 ft tall x 2-3 ft wide, groundcover, partial to full shade, acidic.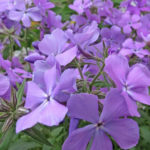 Dark violet blue, green foliage, fragrant, moderate growth rate, blooms early spring, 0.5-1 ft tall x 1-2 ft wide, partial to full shade.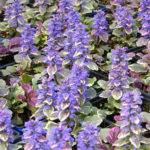 (GROUNDCOVER) Blue blooms appear on short spikes in spring. Tri-coloured foliage is creamy-white, burgundy-rose, & dark green. In fall, older foliage turns deep bronze and is replaced with rosy new foliage. 6″ tall x 6-12″ spread Full Sun Part Shade
Star-shaped chartreuse flowers in loose clusters early spring-summer. Light green soft velvety leaves partially folded toothed scalloped lobes are hairy. Leaves sparkle with the morning dew. Clumping. 6-12″ tall x 12-24″ spread. Full Sun/Part Shade.