Allium schoenoprasum (Onion Chives)
Light purple flowers perched on sturdy stems surrounded by green fragrant foliage. Blooms mid spring 1-1.5′ tall x 1-1.5′ spread. Full Sun/Part Shade.
| | |
| --- | --- |
| Zone | Zone 4 |
| Exposure | Full Sun to Partial Shade |
| Moisture | Moderate Moisture |
Yellow white, ball like blooms, silver lacy leaves, fragrant, moderate growth rate, blooms early summer, 1 ft tall x 2 ft wide, groundcover, full sun to partial shade.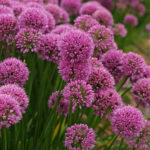 Bright rosy-purple flower clusters on strong stems from mid to late summer. An upright, compact clump of glossy green foliage. 1.5-2′ tall x 1′ spread. Full Sun/Part Shade.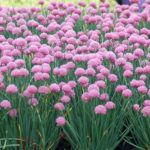 Lavender-pink, star-like flowers bloom from late spring to early summer. Attractive gray-green, grass-like foliage is EDIBLE. Clumping habit. 10-12″ tall x 10-12″ spread. Full Sun/Part Shade.