Andropogon gerardii 'Rain Dance' (Big Bluestem)
Deep purple burgundy flowers held on red stems, green foliage with red tips transitioning to deep red in fall,
Blooms midsummer to late fall
6 ft tall x 2 ft wide
Deer resistant
Drought tolerant
| | |
| --- | --- |
| Zone | Zone 3 |
| Exposure | Full Sun |
| Moisture | Low to Moderate Moisture |
| Native to | Native Cultivar |
| Patent Info | PPAF |
Bright orange/yellow flowers bloom on top of tall hairy stems, and give way to seed pods. Leaves are speared and narrow. Despite it's common name, this particular species of milkweed has no milky sap. Moderate growth rate.
Blooms mid summer to early fall
1-3 ft tall x 1-3 ft wide
Deer resistant
Attracts hummingbirds, bees, and butterflies
Drought resistant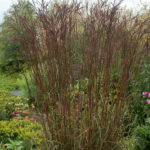 Lustrous blooms of rich purple are produced in late summer on red-brown stems. At this time 3-stemmed seed heads are produced- their bright red-orange pollen sacs can be seen from afar. The foliage turns from green to dark grey-purple once the cooler weather arrives.
Blooms late summer
5-6 ft tall x 1.5-2 ft wide
Drought tolerant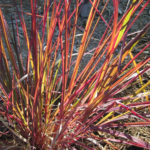 Tall green foliage carry dark red-tipped, turkey foot-shaped leaves in the summer, and as the frost hits, the grass turns a vibrant scarlet hue.
Blooms midsummer
5-6 ft tall x 1-2 ft wide
Deer resistant
Drought tolerant
Attracts pollinators