Andropogon gerardii (Big Bluestem)
Planate leaves emerge blue-green in the spring and turn green with touches of red as the warmer weather comes, then take on burgundy-lavender tones in the fall. Fast growth rate.
Blooms late summer
4-6 ft tall x 2-3 ft wide
Drought tolerant
Deer resistant
Tolerant to juglone
| | |
| --- | --- |
| Zone | Zone 4 |
| Exposure | Full Sun |
| Moisture | Low to Moderate Moisture |
| Native to | Native |
Bright orange/yellow flowers bloom on top of tall hairy stems, and give way to seed pods. Leaves are speared and narrow. Despite it's common name, this particular species of milkweed has no milky sap. Moderate growth rate.
Blooms mid summer to early fall
1-3 ft tall x 1-3 ft wide
Deer resistant
Attracts hummingbirds, bees, and butterflies
Drought resistant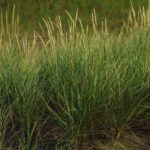 Tall green foliage and long brown seedheads cultivates on sand dunes and along the shores of the Great Lakes, growing as the sand rises on the dunes. Moderate growth rate.
Blooms early to mid summer
2-3 ft tall x 1 ft wide
Vertical clusters of flat leaves emerge greyish blue in the spring, maturing to green with touches of red in the summer, and finally turning a bronze-burgundy with shades of lavender in the fall.
Blooms mid summer to late fall
6 ft tall x 2 ft wide
Tolerant to juglone
Attracts birds
Deer resistant