Azalea 'Arneson Ruby' (Deciduous Azalea)
Large ruby-red blooms with wavy edges lay on bright green foliage that turns an attractive shade of red in the fall. Fast growth rate.
Blooms mid spring
4-5′ tall x 3′ spread
Deciduous
Attracts bees, butterflies, and hummingbirds
HARDY to -15°F (-26°C)
| | |
| --- | --- |
| Zone | Zone 5 |
| Exposure | Full Sun to Partial Shade |
| Moisture | Moderate to Consistent Moisture |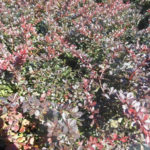 Burgundy and green foliage appears in the spring and turns scarlet red in the fall, when bright red berries appear. The stems are adorned with many sharp thorn, making it a great natural pest deterrent. Slow growth rate.
Blooms mid spring
3-4 ft tall x 2-3 ft wide
HARDY to -40°C/F
Deer and rabbit resistant
Drought tolerant
Red buds open to reveal blazing flame-red flowers on this heavy bloomer. Green foliage is disease resistant and turns red in the fall. Upright/erect form.
Blooms early to mid spring
2-3′ tall x 3-4′ spread
Deciduous
HARDY to -20°F (-28°C)
Fragrant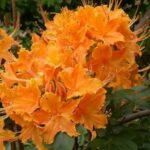 Large amber-gold blooms flourish on striking blue-silver foliage.
Blooms in mid to late spring
4′ tall x 4′ spread
Deciduous
HARDY to -20°F (-28°C)
Fragrant
Attracts bees, butterflies, and hummingbirds