Azalea 'Calendulaceum Gold' (Golden Flame Deciduous Azalea)
Golden form of the Flame Azalea. The common name comes from the buds that resemble candle flames. The buds open to reveal flowers that are a stunning rich glowing orange, sometimes red. The slightly dull medium green foliage is fuzzy on the underside. Upright, loosely branched form.
Blooms late spring
4-8′ tall x 4-8′ spread
Deciduous
Attracts bees, butterflies, and hummingbirds
Deer and rabbit resistant
| | |
| --- | --- |
| Zone | Zone 5 |
| Exposure | Full Sun to Partial Shade |
| Moisture | Moderate Moisture |
| Native to | Native Cultivar |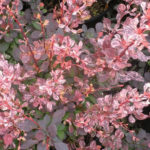 Graceful arching branches produce deep rose-red foliage which are mottled with green and white in the spring. The fruit are bright red drupes that appear in fall on thorny branches along with inconspicuous blooms.
Blooms mid-spring
5′ tall x 4′ spread
HARDY to -40° C/F
Deer and rabbit resistant
Drought tolerant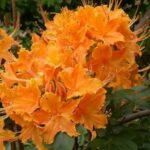 Large amber-gold blooms flourish on striking blue-silver foliage.
Blooms in mid to late spring
4′ tall x 4′ spread
Deciduous
HARDY to -20°F (-28°C)
Fragrant
Attracts bees, butterflies, and hummingbirds
Clusters of trumpet-shaped light pink blooms with yellow streaks cover the plant. Medium green leaves appear after flowering and turn burgundy in fall. Mounded habit.
Blooms mid to late spring
3-5′ tall x 3-5′ spread
Evergreen
HARDY to -30°F (-34°C)
Fragrant
Attracts hummingbirds