Blechnum spicant (Deer Fern)
Evergreen sterile fronds form a loose spreading rosette, while fertile fronds grow from the centre of the plant to stand erect, turning brown as the season progresses.
1-1.5 ft tall x 1-2 ft wide
HARDY to -20°F (-29°C)
Rabbit resistant
| | |
| --- | --- |
| Zone | Zone 5 |
| Exposure | Partial to Full Shade |
| Moisture | Moderate Moisture |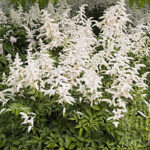 Radiant white blooms rise high on the bright green foliage. Moderate growth rate.
Blooms mid summer
1.5-2 ft tall x 1.5-2 ft wide
Fragrant
Deer and rabbit resistant
Attracts bees and butterflies
Tolerant to juglone
Intense silver-green arching fronds with dark maroon veining turn a rich green in the summer. Moderate growth rate.
Blooms mid spring to summer
2 ft tall x 2 ft wide
Deer and rabbit resistant
Dull green fronds resembling holly branches, hence it's common name , are adorned with stiff upright leaves. Moderate growth rate. Acidic.

1-2 ft tall x 1-2 ft wide
Deer and rabbit resistant
Attracts butterflies