Campanula carpatica 'Pearl White' (Bellflower)
Crisp white, cup-shaped, upward facing blooms from June to October. Semi-evergreen foliage that is bright green, and sharply toothed. Low, neat and tidy, compact form. 6″ tall x 6″ spread. Full Sun/Part Shade.
| | |
| --- | --- |
| Zone | Zone 3 |
| Exposure | Full Sun to Partial Shade |
| Moisture | Moderate Moisture |
NEW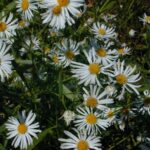 Small daisy-like flowerheads consisting of bright white petals surrounding a bright yellow centre. Blooms late summer to mid-fall. Important source of food in the late season for pollinators. Upright mound. 3-5 ' tall x 2' spread. Full Sun.
NEW
Dark purple buds open to large lilac-silver bell-like blooms. Non-seeding, flowers are nectar-pollen-rich so known for attractings, bees, beneficial insects and other pollinators. Tidy, compact habit. 24-30″ tall x 14-18″ spread. Full Sun/Part Shade.