Desmodium illinoense (Illinois Tick Trefoil)
Pea-shaped cluster of stalked flowers at the top of the stem are pale purple/pink with a few white spots near the center. Blooms are replaced by flat seedpods. Stem is covered with fine hooked hairs. Blooms mid-summer. 2.5-4′ tall. Full Sun.
| | |
| --- | --- |
| Zone | Zone 3 |
| Exposure | Full Sun |
| Moisture | Low to Moderate Moisture |
| Native to | Native |
NEW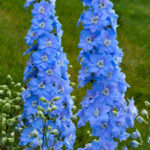 Light blue semi-double to double blooms on strong tall stems that rise above the dark green, deeply dissected foliage. Blooms early summer and again in late summer. Upright, clump-forming habit. 2.5-3′ tall x 1.5-2′ spread. Full Sun/Part Shade.
NEW
(American Pie Series) Scented, rose-pink single flowers with hot pink centres. Blooms on sturdy stems in spring to early summer. Blue-silver thin foliage. Compact mounding habit. 12″ tall x 12″ spread. Full Sun.