Hemerocallis 'Endlesslily Orange' (Daylily)
Blooms of bright orange petals with a green throat rise high above full green foliage. Slow growth rate.
The common name comes from the fact that each flower only lasts for no more than 24 hours- they open in the morning and wither before the following evening- some to be replaced by another flower on the same scape.
Blooms early spring to summer
1-1.5 ft tall x 1-1.5 ft spread
Ever-Blooming
HARDY to -40°F (-40°C)
Attracts bees, butterflies, and hummingbirds
Rabbit resistant
Tolerant to juglone
Drought tolerant
| | |
| --- | --- |
| Zone | Zone 4 |
| Exposure | Full Sun |
| Moisture | Moderate Moisture |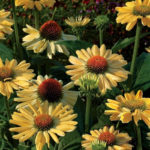 (Prairie Pillars™ Collection)Yellow flowers with an orange/brown centre bloom on tall stems with bright green foliage. Rapid growth rate.
Use as cut or dried flowers. Be sure to keep some flowers in the garden over winter, as the blackened seedheads provide cold-season garden interest, as well as food for finches and other winter birds.
Blooms early to late summer
1.5-2.5 ft tall x 2-2.5 ft spread
Attracts bees, butterflies, and hummingbirds
Deer and rabbit resistant
Drought tolerant
NEW
Over a long bloom season, spicy red flowers resembling dahlia's mature to mango orange and finally bronze. Deep purple-black stems and foliage compliment the richly coloured blooms. Moderate growth rate.
Blooms mid-to-late-summer
3-4 ft tall x 1-1.5 ft spread
Attracts bees, butterflies, and hummingbirds
Deer and rabbit resistant
Heat tolerant
NEW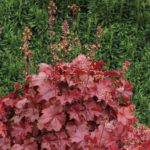 Clear, dark red to burgundy round leaves form a dense, medium sized mound. Green-yellow flowers appear in late spring to early summer. 12-14″ tall x 18-20″ spread. Full Sun/Part Shade. (RUST RESISTANT)