Hemerocallis 'Storm Shelter' (Daylily)
(FRAGRANT) 5″ wide mauve blooms with deep eggplant purple eye that extends to nearly the edge of the petals. Ruffled edges with a wide picotee margin is the same eggplant color of the eye. 20-24″ tall x 18-24″ spread. Full Sun/Part Shade.
| | |
| --- | --- |
| Zone | Zone 3 |
| Exposure | Full Sun to Partial Shade |
| Moisture | Low to Moderate Moisture |
| Brand | |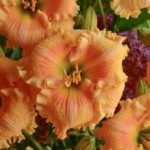 (REBLOOMER) Orange mango 4″ wide flowers with rose band, pink mid rib, and green throat. Blooms early summer to early fall. 24″ tall x 12″ spread. Full Sun/Part Shade.
NEW
Elongated, deep blue berry's flavour is similar to wild blueberries. One of the first berries to ripen in the spring. They don't hold up in room temperature but freeze well. Upright habit. 4-8′ tall x 4-5′ spread. Full Sun Part Shade.