Hosta 'Blue Moon'
Deep blue-green leaves are very thick, corrugated, cupped heart-shaped. Near white flowers bloom late summer on short scapes hidden under the leaves. 10″ high x 26″ spread. Part/Full Shade.
| | |
| --- | --- |
| Zone | Zone 3 |
| Exposure | Partial to Full Shade |
| Moisture | Moderate to Consistent Moisture |
Leaves have a blue centre and a thick creamy-white margin and in summer centres deepen to blue-green and margins brighten to white. Lavender flowers in mid-summer on 24″ scapes. 16″ high x 30″ spread. Part/Full Shade. Sport of 'Halcyon'.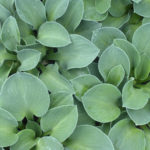 Blue green, dull, nearly round cupped flat leaves with nearly flat margin. Dense clusters of pale purple flowers bloom mid-summer on 11″ scapes. Slow growth rate. 5″ high x 18″. Part/Full Shade. Sport of 'Blue Cadet'.