Hosta 'Blue Wedgewood'
Blue green, glaucous ovate cupped leaves with slightly rippled margin, moderate to fast growth rate, light lavender bell blooms, blooms mid to late summer,1.5 ft tall x 3.5 ft wide, partial to full shade.
| | |
| --- | --- |
| Zone | Zone 3 |
| Exposure | Partial to Full Shade |
| Moisture | Moderate to Full Moisture |
Yellow flowers, green foliage, blooms early to late summer, attracts butterflies, moderate growth rate, 1.5 ft tall x 1.5-2 ft wide, full sun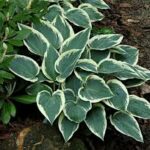 Blue green leaves with yellow margins in spring, and in summer the yellow margins turn pure white. Lavender flowers bloom mid-summer. 14″ high x 39″ spread. Part/Full Shade.