Hosta 'Brother Stefan'
Leaves are thick, heavily corrugated and puckered with a golden-yellow centre that is framed with wide dark green margin. Near white flowers bloom mid summer on 24″ scapes. 20″ high x 36″ spread. Part/Full Shade.
| | |
| --- | --- |
| Zone | Zone 3 |
| Exposure | Partial to Full Shade |
| Moisture | Moderate to Consistent Moisture |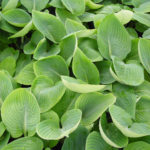 Blue green, glaucous elliptic broadly ovate cupped corrugated leaves with nearly flat margin, moderate growth rate, near white bell blooms, blooms mid to late summer, 2 ft tall x 4 ft wide, partial shade. LARGE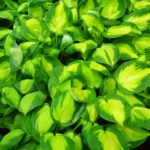 Feuilles vertes avec des marges jaune pâle/blanc crème, bords ondulés veines profondément imprimées, fleurs lavande au milieu de l'été sur des scapes hauts, 26-28″ haut x 48″ large, ombre/mi-ombre, couleur différente, mutation de 'Niagara Falls'.