Hydrangea arborescens 'Invincibelle Limetta' (Smooth Hydrangea)
Spheres of lime green flowers in early spring; lighten to soft green-white then a jade green for the rest of the season. Flowers are held up on strong stems so no flopping. Blooms spring-fall. Dwarf mounded habit. 2.5-3′ tall/wide Full Sun/Part Shade.
| | |
| --- | --- |
| Zone | Zone 3 |
| Exposure | Full Sun to Partial Shade |
| Moisture | Moderate Moisture |
| Native to | Native Cultivar |
| Patent Info | PPAF, CPBRAF |
| Brand | |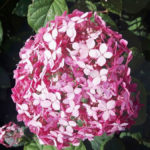 Pale pink buds open into huge silvery-pink blooms and darkening to deep pink and changing to chartreuse with age. Flowers bloom on strong stems so they don't flop. Blooms in summer. Mounded habit. 4-5′ tall x 4-5′ spread. Full Sun/Part Shade.
*HYDRANGEA OF THE YEAR 2020* Deep burgundy blooms emerge in early summer and fade to bright red and silvery-pink. Huge bloom clusters are on sturdy stems that are adorned with dark green shiny foliage. Mounded habit. 3-4′ tall x 2-3′ spread. Full Sun/Part Shade.