Hydrangea quercifolia 'Snowflake' (Oakleaf Hydrangea)
Large pyramidal panicles made up of white flowers with multiple bracts/sepals appear to be double-flowered. Blooms fade to pink then brown. Maroon/purple fall foliage and exfoliated stems add winter interest. 6-8′ tall x 5-6′ wide Full Sun/Part Shade.
| | |
| --- | --- |
| Zone | Zone 5 |
| Exposure | Full Sun to Partial Shade |
| Moisture | Moderate Moisture |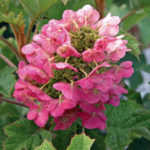 Large white blooms that mature to ruby-red in fall and remain upright on the branches. Deeply-lobed, dark green, oak-like foliage turns mahogany in fall. Blooms early summer to early fall. Compact mound. 4′ tall x 4-5′ spread. Full Sun/Part Shade.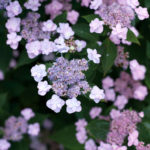 (RE-BLOOMER) Lacecap flowers of double sepals bloom blue but colour may range in delicate shades of blue-pink-white. Re-blooms throughout the summer. Mounded habit . 1.5-2′ tall x 1.5-2′ spread. Full Sun/Part Shade.