Aesculus parviflora (Bottlebrush Buckeye)
Blooms of erect white flower panicles with red anthers and pinkish filaments, early-mid summer, followed by pear-shaped fruit. Foliage emerges bronze, maturing to dark green to shades of yellow in fall. 8-12′ tall x 8-15′ spread. Full Sun/Part Shade.
| | |
| --- | --- |
| Zone | Zone 4 |
| Exposure | Full Sun to Partial Shade |
| Moisture | Moderate Moisture |
| Native to | Native |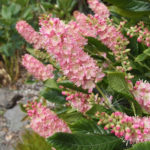 (FRAGRANT) A multi-stemmed shrub with showy spikes of ruby-red blooms in late summer. Glossy green foliage turns an outstanding harvest gold in the fall. Oval mounded habit. 4-6′ tall x 4′ spread. Full Sun/Part Shade.
White, variegated green leaves with white margins, fragrant, moderate growth rate, blooms late spring, 2 ft tall x 1 ft wide, partial to full shade.
(NEEDLED EVERGREEN) Scale-like glossy dark green foliage which droops from branching rising upward from the centre before arching downward. Bronze tones in winter. Shrubby dwarf form. 3′ tall x 2.5-3′ spread. Full Sun/Part Shade.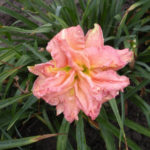 (Rebloomer) Rose blend, light midribs, green throat, 68 cm flowerscapes, 14 cm blooms, double, blooms mid summer, full sun to partial shade, dormant, diploid. LARGE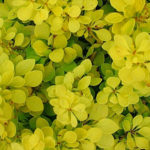 Bright yellow foliage on a compact, upright, multi-stemmed, thorny shrub. The foliage retains its yellow throughout the summer, changing to orange and red in the fall. Bright red, glossy berries form in the fall. 3-4′ tall x 3-5′ spread. Full Sun.