Ajuga reptans 'Black Scallop' (Bugleweed)
(GROUNDCOVER) Vibrant violet-blue flowers on short spikes in the spring. Foliage is glossy, near-black with scalloped leaves. Compact groundcover. 0.5′ tall x 3′ spread. Full Sun/Part Shade.
| | |
| --- | --- |
| Zone | Zone 3 |
| Exposure | Full Sun to Partial Shade |
| Moisture | Moderate Moisture |
| Patent Info | PP15815 |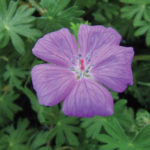 Magenta purple, green foliage, crimson red in fall, moderate growth rate, blooms late spring to early summer, 1-1.5 ft tall x 1.5 ft wide, full sun to partial shade.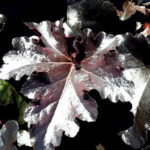 White flowers, pink calyxes, jet black foliage, purple undersides, blooms midsummer, stays black all year, 0.5-1ft tall x 2-3ft wide, full sun to full shade
Pale lavender blooms, powder blue, lightly cupped foliage, moderate growth rate, 1ft tall x 1.5-2ft wide, full to partial shade Medium (26-45 cm)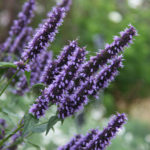 The nearly-black buds open into small, tightly grouped blooms in rich, deeply-colored red-violet. Fragrant blooms from early summer into the fall. Tight mound-shaped habit. 2-3′ tall x 1.5-2′ spread. Full Sun/Part Shade.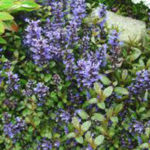 (DWARF GROUNDCOVER) Bluish-purple flowers rise slightly above the foliage to 3″ tall. A foliage mat of tiny, shiny, oval leaves which are chocolate with burgundy highlights. Blooms from May to June. 3″ tall x 3-9″ spread. Full Sun/Part Shade.