Asarum europaeum (European Wild Ginger)
(GROUNDCOVER) Shiny, leathery heart-shaped dark green leaves which, in regions with mild winters, are evergreen. In late spring, small bell-shaped flowers bloom but are unnoticed because they are hidden by the dense foliage.
Blooms early summer
6″ tall x 8-12″ spread
Attracts butterflies
Deer resistant
Tolerant to juglone
| | |
| --- | --- |
| Zone | Zone 4 |
| Exposure | Partial to Full Shade |
| Moisture | Moderate to Consistent Moisture |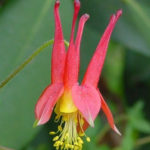 Nodding bell-like red and yellow flowers have upward spurred petals with yellow stamens hanging below. Attractive green-blue foliage is divided into rounded lobes of 3.
Blooms mid-late spring
20-30″ tall x 10-12″ spread
Deer and rabbit resistant
Attracts hummingbirds and butterflies
Drought tolerant
NEW
Beautiful sprays of cream-coloured lacy flowers emerge and cover deep green foliage. Tends to be a slow-grower the first couple of seasons and then can grow
Blooms in late spring/early summer
30-32″ x 40-48″ spread
Drought tolerant
Deer resistant
Attracts bees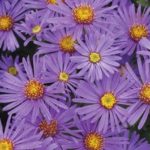 Masses of violet-blue daisy-like blooms with a yellow centres grow en masse on smooth, dark green foliage.
Blooms from late summer to mid fall
18-24″tall x 18-24″ spread
Deer and rabbit resistant
Tolerant to juglone
Attracts hummingbirds, bees, and butterflies
Drought tolerant