Aster laevis 'Blue Autumn' (Smooth Blue Aster)
Masses of violet-blue daisy-like blooms with a yellow centres grow en masse on smooth, dark green foliage.
Blooms from late summer to mid fall
18-24″tall x 18-24″ spread
Deer and rabbit resistant
Tolerant to juglone
Attracts hummingbirds, bees, and butterflies
Drought tolerant
| | |
| --- | --- |
| Zone | Zone 3 |
| Exposure | Full Sun |
| Moisture | Low to Moderate Moisture |
| Native to | Native Cultivar |
| Patent Info | PP# 17,400 |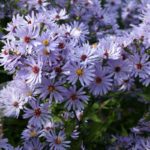 Tiny dark blue and off-white star-shaped flowers hold a yellow centre. Narrow green hairy leaves make a thick foliage. Moderate growth rate.
Blooms late summer to early fall
2-3 ft tall x 2-3 ft wide
Deer resistant
Attracts butterflies
Drought tolerant
Tolerant to juglone
NEW
(GROUNDCOVER) Shiny, leathery heart-shaped dark green leaves which, in regions with mild winters, are evergreen. In late spring, small bell-shaped flowers bloom but are unnoticed because they are hidden by the dense foliage.
Blooms early summer
6″ tall x 8-12″ spread
Attracts butterflies
Deer resistant
Tolerant to juglone
NEW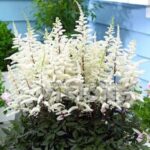 Dense clouds of pristine white blooms rise above the glossy, bronze-green foliage on crimson stems.
Blooms from spring to summer
2′ tall x 1.5′ spread
Attracts birds and butterflies
Deer and rabbit resistant
Tolerant to juglone