Cornus canadensis (Bunchberry)
Tiny green-yellow flower surrounded by white bracts and followed by clusters of fruit that turns bright red in late summer. Glossy medium to dark green foliage in false whorls turn red to purple in fall. 6-12″ tall x 6-12″ spread. Part/Full Shade.
| | |
| --- | --- |
| Zone | Zone 2 |
| Exposure | Partial to Full Shade |
| Moisture | Moderate Moisture |
| Native to | Native |
NEW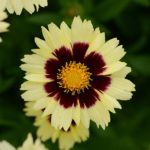 Large cream coloured blooms with dark red centres. Blooms late spring through late summer. Tidy compact habit. 10-14″ tall x 10-14″ spread. Full Sun.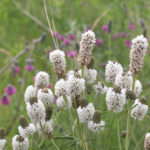 Tiny white flowers in dense cone-like heads on top of tall slender stems, bloom from bottom to top in the summer. Compound, dull green leaves with narrow linear leaflets. Nitrogen-fixing plant. 12-24″ tall x 12-18″ spread. Full Sun.