Cornus sericea 'Arctic Fire ('Farrow')' (Red Osier Dogwood)
Beautiful red stems stand out in the winter landscape. White/near-white flowers bloom on old wood in late spring, followed by clusters of berries in late summer. Compact upright habit. 3-5′ tall x 3-5′ spread. Full Sun/Part Shade.
| | |
| --- | --- |
| Zone | Zone 3 |
| Exposure | Full Sun to Partial Shade |
| Moisture | Moderate Moisture |
| Native to | Native Cultivar |
| Patent Info | PP# 18,523 |
| Brand | |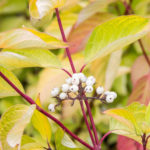 Colourful shrub with bright yellow foliage in spring, soft yellow in summer, bright red in fall. Flaming orange-red stems are revealed when foliage drops. Creamy-white flowers in spring yield berries mid summer. 6′ tall & wide. Full Sun/Part Shade.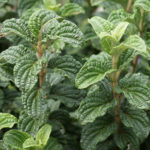 Glossy, puckered foliage is what makes it stand out from other red-twig dogwoods. Flowers bloom on old wood early to late spring. Younger stems will show some red colour in winter. Compact upright habit. 3-4′ tall x 3-4′ spread Full Sun/Part Shade.