Euonymus fortunei 'Emerald Gaiety' (Wintercreeper)
Variegated glossy, deep emerald-green foliage with irregular creamy-white margins. Leaf margins turn pink as the temperature drops. Can be trained to climb. An annual trim after flowering will help it maintain its attractive shape.
Tolerant to juglone
Shrub form with a spreading habit
3-5′ tall x 3-6′ spread
| | |
| --- | --- |
| Zone | Zone 5 |
| Exposure | Full Sun to Partial Shade |
| Moisture | Moderate Moisture |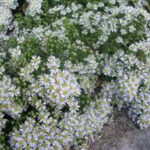 White flowers adorned with a gold centre on green foliage grow in a compact, bushy habit. Fast growth rate.
Blooms late summer to early fall
0.5 ft tall x 0.5-1 ft wide
Attracts birds and butterflies
Drought tolerant
Ground cover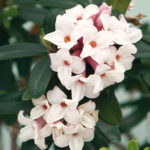 (FRAGRANT)White flowers with an orange-yellow eye blooms in spring with sporadic blooms on new growth. Foliage is narrow, elliptic, semi-glossy dark green. 2-3′ tall x 2-3′ spread. Full Sun/Part Shade.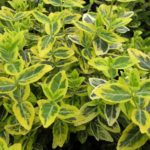 Lustrous, oval dark green foliage with serrated edges of gold turn pinkish-red in the fall. Low-growing, erect to semi-erect form but can be trained to climb.
1-2′ tall x 2-4′ spread
Tolerant to juglone