Gaultheria procumbens (Wintergreen)
(GROUND COVER) White, waxy, nodding, bell-shaped flowers bloom early summer followed by bright red berries. Foliage is a glossy, leathery dark green. 4-6″ high x 12″ spread. Part/Full Shade. Acidic soil.
| | |
| --- | --- |
| Zone | Zone 4 |
| Exposure | Partial to Full Shade |
| Moisture | Moderate Moisture |
| Native to | Native |
NEW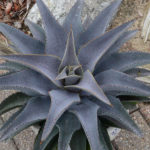 (Mad About Mangave Series) (UNUSUAL-TROPICAL SUCCULENT) Leaves are a blue-green rosette that are thick and rigid with a reddish-purple tinge. Full sun will bring out a more intense colour. 14″ tall x 24″ spread. Full Sun.
NEW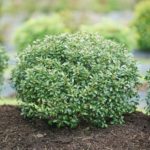 Lush, thick, spineless, blue-green foliage all the way to the ground. Naturally grows as a broad, compact, rounded mound and can be pruned or shaped as desired. Excellent substitute for boxwood. 2-3′ tall x 2-3′ spread. Full Sun/Part Shade.