Azaleas prefer a slightly acidic soil and dappled sunlight. They are either deciduous or evergreen with bloom times varying from early spring to early summer. The deciduous Azalea's flower is produced before the foliage. There are many different sizes and colours of Azaleas. A beautiful plant to include in a woodland garden.
D
Red blooms early to mid spring. Green foliage turning red in the fall. Upright/erect form. 2-3′ tall x 3-4′ spread. Full Sun/Part Shade. HARDY to -20F (-28C)
E
NEW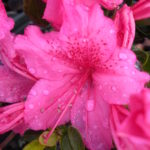 Single trumpet-shaped, watermelon pink to violet-red flowers with dark blotches bloom in clusters in late April-May. Blooms are accented by dark green glossy foliage. Compact, oval-rounded, slightly-spreading habit. 3-4′ tall and wide. Full Sun/ Part Shade
G
Golden form of the Flame Azalea. Slightly dull medium green foliage that is fuzzy on the underside. Blooms late spring. Upright, loosely branched form. 4-8′ tall x 8-10′ spread. Full Sun/Part Shade.
K
Slightly fragrant lavender/rose-purple blooms with dark blotch in April-May. Evergreen in mild winters, deciduous in cold winters. Foliage is an amazing orange-red in fall. Semi-upright spreading habit. 3-6′ tall x 6-12′ spread Part Shade/Full Shade
N
FRAGRANT clusters of trumpet-shaped light pink blooms with yellow streaks cover the plant. Medium green leaves appear after flowering and turning burgundy in fall. Mounded habit. 3-5′ tall x 3-5′ spread. Full Sun/Part Shade. HARDY to -30F (-34 C)
R
(FRAGRANT) Funnel-shaped white blooms are tinged with pink. Flowers bloom in April-May as the leaves emerge. Dark green leaves turn shades of red, orange and yellow in fall. Upright rounded habit. 4-6′ tall x 3-5′ spread. Full Sun/Part Shade.
S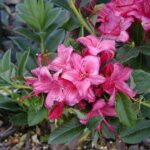 (FRAGRANT) Dusty red blooms with a pale orange flare. Blue-green, mildew resistant foliage have a striking silvery underside. Blooms in early summer. Upright habit. 4-5′ tall x 4-5′ spread. Full Sun/Part Shade.