Hydrangeas have a climatic impact in the garden when they come into bloom. There are many characteristics to consider when choosing a hydrangea: size of a mature plant; size, colour and shape of the flower; whether it blooms on new wood or old wood. Hydrangeas can be used in many applications in a landscape such as a hedge, in mixed borders, foundation planting, a specimen and mass plantings.
C
FRAGRANT white flowers in flat-top clusters emerge in late spring to early summer. Dried flower heads are reddish brown as is the exfoliated bark on mature stems. CLIMBER. 30-50′ high x 5-6′ spread. Part Shade/Full Shade.
L
Bright white double florets arranged in an outer ring surrounding a large clump of smaller double florets in the centre of the flower head. Glossy green foliage. Blooms late spring to early fall. 2-3′ tall x 3-5′ spread. Full Sun/Part Shade.
(REBLOOMER) Deep pink or periwinkle blue blooms (depending on pH) from late spring to early fall. Vivid red stems adds interest to the garden. Upright, rounded habit. 3-5′ tall x 3-5′ spread. Full Sun/Part Shade.
(REBLOOMER) Large pink or blue lacecap blooms, blooming on new and old wood, producing blooms from early to late summer. Mounded habit. 3-4′ tall x 3-4′ spread. Full Sun/Part Shade.
M
NEW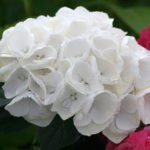 Pure white flowers with hard blooms grow on strong stems. As the flower ages it changes to a mint green and then to a deep lime green and holds its colour until a hard frost. 24-30″ tall x 24-30″ spread. Part Sun/Shade
O
Large pyramidal panicles made up of white flowers with multiple bracts/sepals appear to be double-flowered. Blooms fade to pink then brown. Maroon/purple fall foliage and exfoliated stems add winter interest. 6-8′ tall x 5-6′ wide Full Sun/Part Shade.
P
Large, dense, conical blooms open creamy white with a hint of lime-green. In fall florets turn soft to deep pink. The blooms are complemented by yellow-green foliage. Blooms mid summer to early fall. 6-10′ tall x 6-10′ spread. Full Sun/Part Shade.
S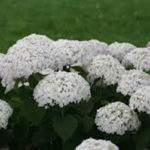 Flowers emerge a soft, blush pink and changing to white. The blooms are held upright on strong stems. Blooms from early summer and continuously until frost. Dwarf, mounded habit. 1-2.5′ tall x 1-2.5′ spread. Full Sun/Part Shade.